Something that I wish would come back into fashions is only using seasonal food. We have lost so much flavor in our produce. Why do we expect tomatoes in the dead of winter? Have you ever noticed that they never taste as good as when you use them in the summer? When I cook I try really hard to do so with seasonal produce.
I decided to step away from the savory and try a dessert. I wanted something light and refreshing to go along with a pretty heavy dinner... was I successful? Somewhat...overall the dish wasn't very fattening, but it wasn't as light as I wanted. I made a strawberry cream cheese napoleon. It was a huge hit and something that someone like the Prince of Wales would have loved.
Phyllo Diamonds
10 sheets phyllo dough
Sugar
2T Lemon Zest
Melted Butter
Vegetable oil
Strawberry Sauce
4c Chopped Strawberries
1/2 c Sugar
1T Lemon Juice
Cream Cheese Mousse
1 Package of cream cheese
1 Stick of butter
1c Powdered Sugar
1t Lemon Zest
2c Whipped Cream
Assembly
Phyllo Diamonds
Strawberry Sauce
Cream Cheese Mousse
Sliced Strawberries
Lemon Zest (for garnish)
Directions
The first thing you should make is the sauce. Combine all ingredients in a saucepan and cook on medium heat until the fruit starts to fall apart.
Next use a immersion blender or food processor to puree your sauce.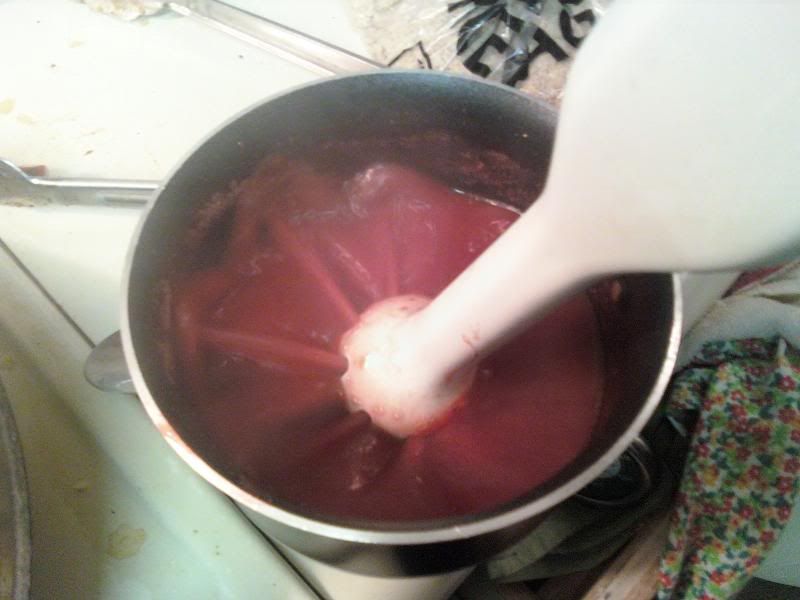 You can either use the sauce as is or strain it to remove the seeds. As my friend Shawna says the seeds give it character and show that's its not out of a jar. Taste the sauce and adjust sugar as needed. Refrigerate and serve cold.
Now its time to move onto the mouse. Cream the butter and cream cheese until it is lump free. Add the powdered sugar and lemon zest and cream. Slowly fold in your whipped cream with a spatula or whisk. Put in fridge until ready to serve.
For the phyllo diamonds layer sheets of dough one by one with butter, sugar, and lemon zest. Next you are going to cut out your shapes. You need 9 total but sometimes its good if you can get a few extra. Any shape cutter will do... I love my diamond cutters so that's what I used.
Heat enough oil to cover the bottom of your pan to 350 degrees. Place the diamonds in oil and let brown. Be careful when turn them they are very delicate. Don't worry if they get a little dark... its just the sugar caramelizing... it adds dimension to the flavors and makes it very European which equals... yum!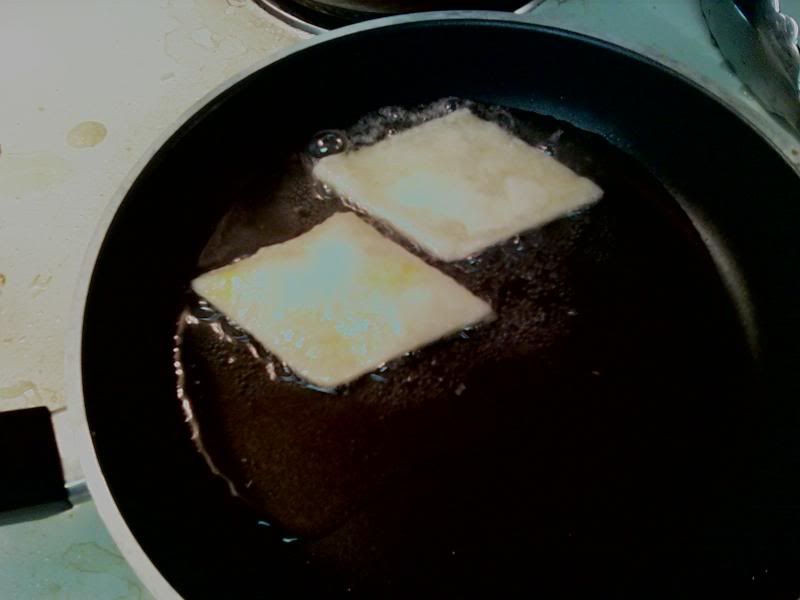 Place on paper towels to drain excess oil but move them before the completely cool or the caramelized sugar will stick to the towels.
Time for assembly! Put a couple drops of sauce on the center of the plate. This will help hold the dessert in place. Take a phyllo diamond and place it on top of the sauce. Layer a couple sliced strawberries then top with a spoonful of mousse. Add another diamond... you can alternate the direction it is facing to add another angle to the dish. Repeat strawberries and mousse. Make one last layer. Sprinkle some zest on top and drizzle plate with sauce.
\
Enjoy! If someone asks you how they are supposed to eat this, it is easiest to eat it layer by layer! Until next time!