So its been awhile since I posted something... sorry I was busy doing the dinner for an evening of music and dancing. The food went pretty well but the chicken dish was a little disappointing. When I made it for the blog it was amazing... it was like a party of flavors in your mouth. I had to choose a different method for preparation since I had to make it for 40 instead of 4. It really lost its quality when I made it in a large batch. The sauce didn't thicken or pick up the flavors like it did previously. It was also lacking in salt which I found amusing since I was worried that I put to much in. The centerpieces for the tables were amazing. I made a
Couronne
Bordelaise
for each table. It was pretty cool because each guest could rip off a piece from the centerpiece for their bread for the meal. In the middle of the bread there were candles and fresh herbs.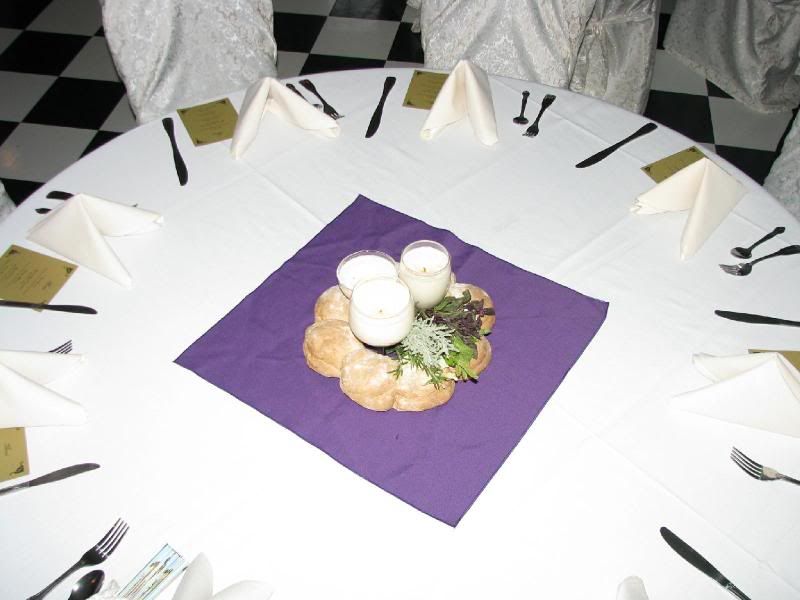 Ok
, so on to the Chicken
Marengo
... yum! So this is a dish that was served to Napoleon after a victorious battle. It was thrown together by the chef using what he had on hand. It was very difficult to research this dish because there are so many different versions of it. I decided to go with something in between all of the recipes I looked at. Some recipes said its a tomato based sauce others say its a white wine sauce. I decided to do a white wine based sauce which would pick up the flavor of the tomatoes through a slow cooking process.
To begin heat some olive oil in a saute pan. While your pan and oil are heating dredge the chicken in flour. Brown the chicken on both sides then put on a plate.
Deglaze
the pan with a little bit of white wine.
Deglazing
the pan releases the "fond" (my definition... the
yumminess
that builds on the bottom of the pan that adds to the perfection of a sauce).
Now add your chopped garlic and sliced onions and to the pan. Caramelize those suckers! YUM!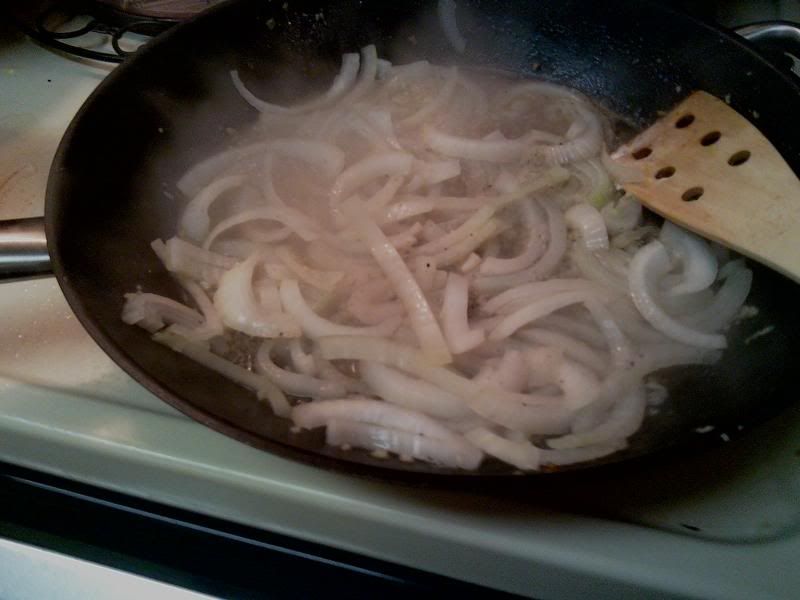 After the onions, in goes diced tomatoes, white wine, chicken broth, basil, and some spices (whatever you feel like will probably taste good). I used cumin, cayenne, salt, pepper, and herbs de provence. Reduce for about 15 min and then throw your chicken back in.
Cook for about 30 min... you will notice that the sauce has thickened very nicely and the aromatics in the dish have been released.
Now its time to add the mushrooms! Cook for another 15 min and serve!
I will definitely use this dish in the future its a new favorite of mine... and to end the post here is a picture of some very satisfied friends!