So tonight I had an impromptu dinner party and made a very scrumptious dessert. I wasn't planning on making dessert but decided that being a pastry chef and not making dessert is blasphemy! So I looked in my fridge found apples... and remembered that I still had some phyllo dough in the freezer. I promise the next dessert will not include phyllo... though I do love it! Mmmmm the crunchy caramel goodness! So I decided to poach the apples whole then wrap them in phyllo and bake them off... Apple Dumplings! I served it with a warm salty caramel sauce. On to the instructions and pictures!
To start of you want to bring apple cider, sugar, spices, and water to a boil. You want it on the strong side so that a nice flavor is infused into the apples. Cloves, Nutmeg, Cinnamon, and Allspice are all good choices. I didn't get to use cinnamon because a friend of mine is allergic to it which made me very sad! When it comes to a boil reduce the heat to the lowest setting. Oh and don't let it boil over while you take the trash out like i did...oops! On to the apples.... peel and core them... make sure to get all of the tough pieces out of the center (its one of the biggest pet peeves of mine... I hate biting into a slice of apple pie and getting a section of the center!). Throw them into the pot of poaching liquid and place a plate or bowl over them so that they are fully submerged.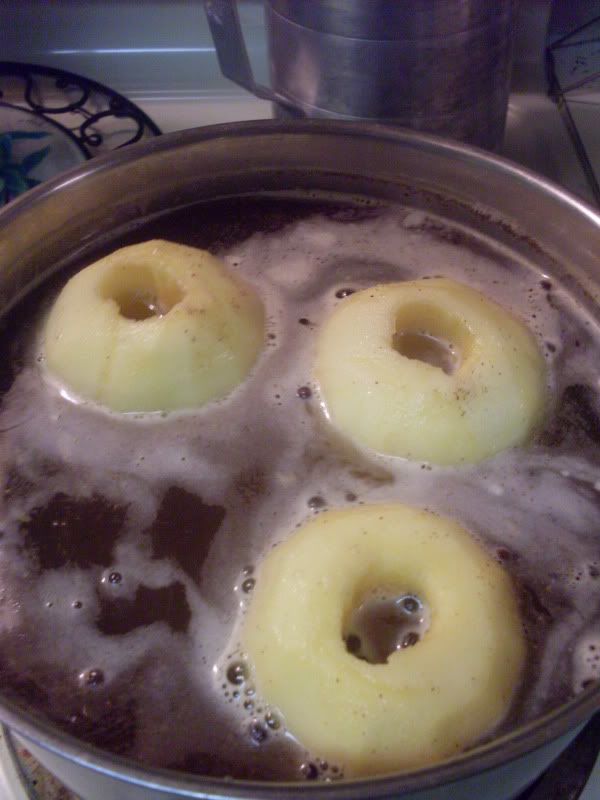 Test them periodically with a fork to check for doneness... when the apple is completely soft take them out and set them aside. Next layer your phyllo dough with butter, sugar, and cinnamon.
Cut about 2 1/2 inches of each length so you have a square big enough to wrap around the apple. Wrap the apples and gather at top... to keep the pocket you have created closed use butter as a "glue".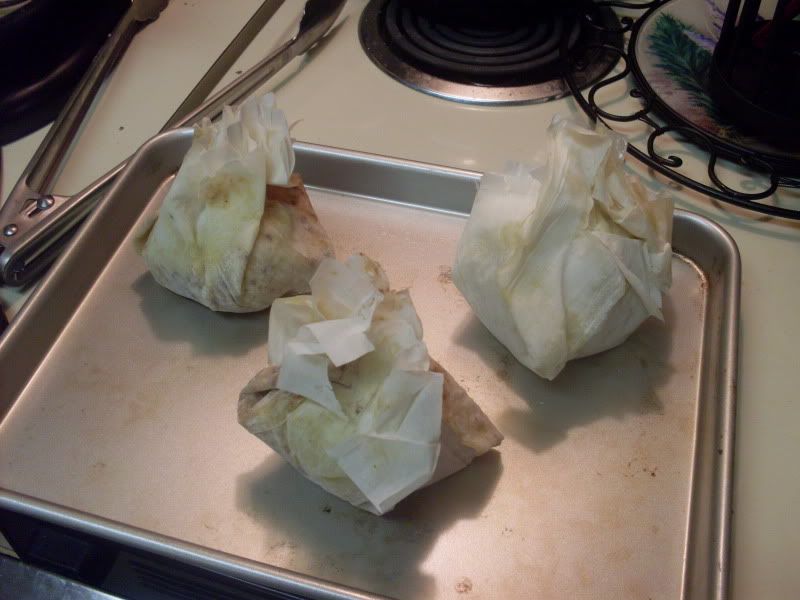 Bake at 375 until it has reached your desired degree of caramelization and crispiness. Keep an eye on it... it bakes pretty fast!
Something I would suggest to do is fill the center with a pretty stiff caramel before closing the phyllo dough. Then when you cut into it you get a gooey surprise. Ummm!
Let me know if you want the recipe for the caramel! And surprise your poaching liquid is now a nice spiced hot cider... enjoy!